There are a few sports as iconic as hunting. For those who aren't quite ready to leave the woods once the deer season is over, coyote hunting is the way to go. Coyotes are the most popular hunting quarry due to their constantly rising populations and destructive tendencies. Fortunately to get into the coyote hunting quest you don't need to break the bank. And depending on where you hunt, there are a variety of shotguns that can be extremely effective.
For many of us, shotguns were some of the first weaponry we were exposed to. After all, they do make a wonderful firearm for everything from beginner training to delivering the perfect coyote hunting weapon. The importance of a quality shotgun for coyote hunting cannot be overstated. Weight, balance, overall length, and the way your face rests on the comb of the stock are all important factors to consider when purchasing shotguns.
A good coyote hunting shotgun can come in a variety of shapes, sizes, and calibers. Semiautomatic shotguns outperform regular shotguns because they can shoot faster and require less movement for follow-up shots. However, if you're looking for a new shotgun, you'll quickly discover that there are numerous options available. That's why I've compiled a list of the 5 best shotguns to buy for coyote hunting without breaking the bank. I spent a lot of time researching to narrow down this selection to the finest of the best for a variety of price points. And I have no hesitation in recommending them to you. Please let me know in the comments, if I missed your favorite or if you believe there is a better option to one on the list.
1. CZ REDHEAD PREMIER
The CZ Redhead Premier is Esk Zbrojovka's flagship series of over-under shotguns, available in 12- or 20-gauge. The Redhead Premier has a one-piece CNC receiver. It is intended to be an all-purpose shotgun that is as comfortable to use as it is to haul around on long hunts. The CZ Redhead Premier has ejectors and a set of five interchangeable chokes, allowing shooters to tailor their firearm's shot pattern to their specific needs. Add in the unrivaled craftsmanship and dependability, and you'd be hard-pressed to find a better youth shotgun, especially for the price.
2. Winchester SX4

The Winchester Super X4 is one of the best shotguns for coyote hunting. It's faster, lighter, and smoother swinging than ever before, and it's more organ ominous than ever. The Sx4's proven active valve gas system provides an incredible cycling speed for lightning-fast follow-up shots. Furthermore, any excess gases are expelled through their Quadra vent boards. Everything is designed to be functional and long-lasting. It has a strong operating mechanism, better balance, larger controls, and ultra-durable internal operating components. Inquire with any SX4 owner about their thoughts. It works, and it works very hard.
3. CZ 1012 MOSGB 12 GA

The CZ 1012 utilizes a gas-less inertia operating mechanism, which is the newest iteration in CZ's semi-automatic shotgun range. Instead of diverting gas from the barrel to power the action, the 1012 stores energy in the bolt during recoil. Then uses it a split second later to twist and free the twin lugs from the barrel extension, allowing the expended shell to be withdrawn. Furthermore, the gas-free system is adjusted to fire a larger range of shells, from light recoiling target loads to the current market's smokin' hot 3-inch magnums. Thus, CZ1012 can easily eat the vast majority of shotshells available and is a perfect firearm for hunting coyotes.
4. BERETTA A400 XTREME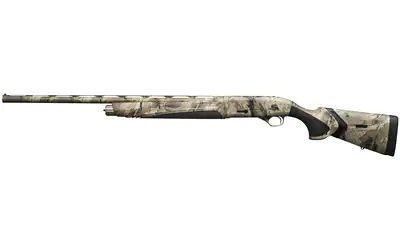 Bretta's top-of-the-line semi-automatic shotgun is next in line. It's loaded with features that make it the ultimate shotgun for extreme coyote hunting. The A400 extreme has the most advanced recoil reduction system in the world. The combination of the kickoff mega and kickoff cubed reduces the recoil by up to 70%. You not only feel less recoil on your cheek and shoulder, but you can also get back on target faster for follow-up shots. A400 extreme can also be customized to meet the needs of the shooter right out of the box. Since the A400 action is self-cleaning, it requires far less maintenance than any other shotgun you will ever own. When you take this gun apart, you'll be amazed at how easy the tool-free field-stripping process is.
5. FRANCHI Benelli Affinity 3 Elite
Next, I am going to present you with Franchi Bennelli Affinity 3 Elite 20 gauge shotgun. It has the same quality and reliability as the original Franchi affinity shotguns but has some great new added features to it. The Cerakote finish on the barrel, action, and magazine cap is super useful in protecting the metal from the elements. Furthermore, special Optifade camo patterns provide the best concealment in a variety of environments. Additionally, the upgraded fiber optic front sights make the Elite stands out from the crowd.
Keep in mind, the improvements aren't just cosmetic. The SureCycle bolt release and an oversized bolt handle make it easier to operate even when wearing bulky winter gloves. The Franchi Precision Cone improves shot pattern cohesiveness, and the chrome-lined barrel makes cleaning out fouling easier. Trust me, Franchi shotguns are one of the best if not the best shotguns for coyote hunting.